Trouser Press Magazine Archive
Trouser Press magazine published a total of 95 issues between 1974 and 1984. They've all been scanned and posted here. The contents are searchable within each issue. Click here for an index of every review, article, column, flexi-disc and news item that ever appeared in the magazine.

TP 91, November 1983
As this handsome Eddy Grant cover (photo by Ebet Roberts) demonstrates, longtime Trouser Press art director Judy Steccone had established excellent visual standards for the magazine, by now in its ninth year. Unfortunately, this was her final issue — she moved back to San Francisco from whence she had come.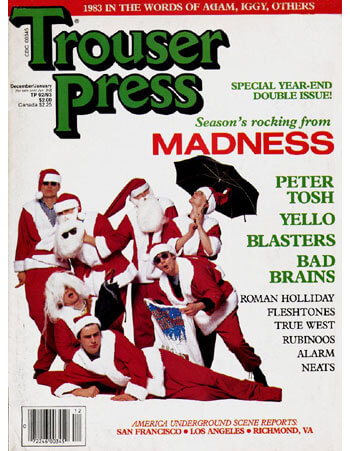 TP 92/93, December 1983/January 1984
When you're low on cash flow, a double issue is always a smart idea. You save money on printing and mailing and gather up two months' worth of advertising. We were strapped come Christmas, that's for sure, but we also had the editorial good sense to fill the issue with year-end stuff to make it feel worthwhile. (And the business acumen to push the price up a quarter, as if that would solve our problems …) Still, at 92 pages, it's the biggest issue we ever published, and the first put together by the magazine's final art director, Dan (brother of indie-rock icon Thalia) Zedek.
TP 94, February 1984
In a radical design concept prompted equally by a smashing photo and a lack of high-powered stories to trumpet, we did without coverlines and let Brian Setzer's quiff, axe and tats do all the talking. Inside, we struggled to find our voice in the shadow of MTV by fielding a musical lineup (X, Cramps, Let's Active, Hunters & Collectors, Yellowman, hardcore) noticeably free of Englishness.
TP 95, March 1984
The penultimate issue, and the best we could do was Big Country, although the Chalkie Davies photograph is sharp, well-composed, character-filled and colorful. (A small Adam Ant in the corner — his third cover appearance — was all we could bear to show of him.)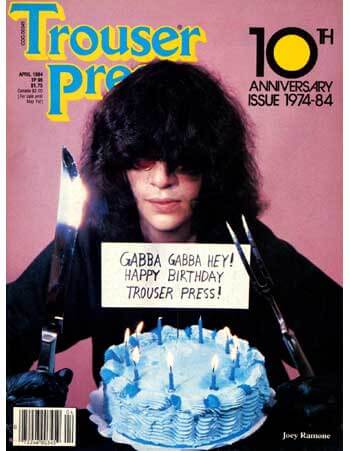 TP 96, April 1984
The only time we ever put anyone on our cover who wasn't covered by a story inside. We just wanted someone we admired to wish us a happy tenth birthday (even though we had already decided it would be our final issue). In a photo session with our friend, the estimable New York scene photographer Godlis, Joey Ramone was a good sport — even when our carefully crafted headline card was ignited by the candles on the cake and we had to come up with a hastily scrawled replacement.
Ten years earlier, this Creem cover pointed the way, although we didn't realize (or remember) it at the time. Kind of embarrassing, now that our lack of originality has been revealed.