Trouser Press Magazine Archive
Trouser Press magazine published a total of 95 issues between 1974 and 1984. They've all been scanned and posted here. The contents are searchable within each issue. Click here for an index of every review, article, column, flexi-disc and news item that ever appeared in the magazine.

TP 21, September 1977
This is a good Almost Famous type story. Promised an extensive historical interview with Jimmy Page that never actually took place during Led Zeppelin's New York concert engagement that summer, Trouser Press co-founder Dave Schulps had to follow the band across the country, where he spent days waiting by the pool of a posh Los Angeles hotel for his nibs to find the time and energy to sit and talk. It was a deadline nightmare, since we were counting on the story for the cover of our first monthly issue, but proved worth the wait, as the Q&A, which ran in three sizable parts, still stands as the definitive Page interview. And led to our new cover price, $1.25.
TP 22, October 1977
It's still 1977, and pretty boy Johnny Rotten graces our cover — on which we announced that new wave, in the original use of the phrase, was over. (Imagine a magazine tacking such an inflammatory editorial slogan on a public figure today: his lawyers would have a field day.) This stunning painting was by Rob Burger, an amazing airbrush auteur who promptly priced himself out of our (admittedly minor) league, but not before we nagged him into the Pink Floyd cover for TP 28. We tried to make a poster of this image to sell, but the printer botched it. Between the "new wave is over" article and more of the Jimmy Page interview, we were all over the place.
TP 23, November 1977
Two things of note about this odd cover. First, Ferry is so intent on flashy his pearly whites for Cleveland writer-photographer Janet Macoska's camera, that he doesn't realize he's spilling bubbly all over the place. Second, if memory serves, there was something about the hotel room behind him that made putting headlines over it problematic, so we created a ridiculous woodgrain background, using a Format texture sheet and a handy Pantone brown. That's how it was done in those grim pre-Photoshop days.
TP 24, December 1977
It took some figuring to work out how to make our own Union Jack as a background for Elvis, but we did it. There was a lot of him this issue: a news story about his departure from Stiff Records, a full page ad for the American release of My Aim Is True and Dave Schulps' article based on a phoner that was the first interview Costello ever did for an American publication. (It ended abruptly when Elvis hastily informed our man in New York that he had to get off because his wife was on the other line.)
TP 25, January 1978
We had to learn (the hard way) what happens when you enlarge a small portion of a slide too much, but it almost worked with this image of an unsmiling Steve Winwood. The maroon rectangle to make the logo readable is pretty bad, as is the yellow type on the pale background.
TP 26, February 1978
It was a fine time for rock, as the enthusiasm of our cover lines indicates. It's a nicely balanced issue — McCartney (brattily billed as the first in a series of B.O.F.s), Syd Barrett and the Who (a first listen to Who Are You and an eyewitness account of a secret show filmed for The Kids Are Alright) on one side, Cheap Trick, the Clash and Tom Robinson on the other. Richie Aaron provided the McCartney photo, which was a late substitution for a planned Pete Townshend cover, which wasn't done in time and had to be held for the following issue.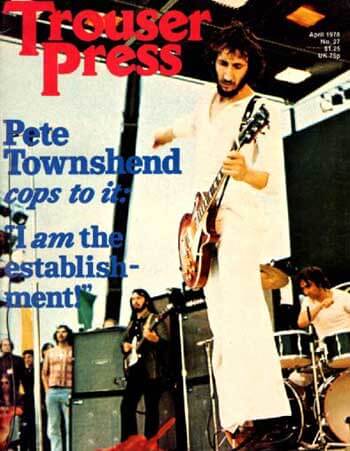 TP 27, April 1978
Coincident with a slight alteration in dating (Trouser Press was, at the time, publishing 10 issues a year), this was the fattest issue we'd ever done — 68 pages. But it still wasn't enough to publish all of Dave Schulps' lengthy and revealing interview with Pete Townshend, which concluded the following month. This cover photo didn't lend itself to a lot of type, so there's no marquee mention of our power pop primer, an ambitious six-page survey of the genre.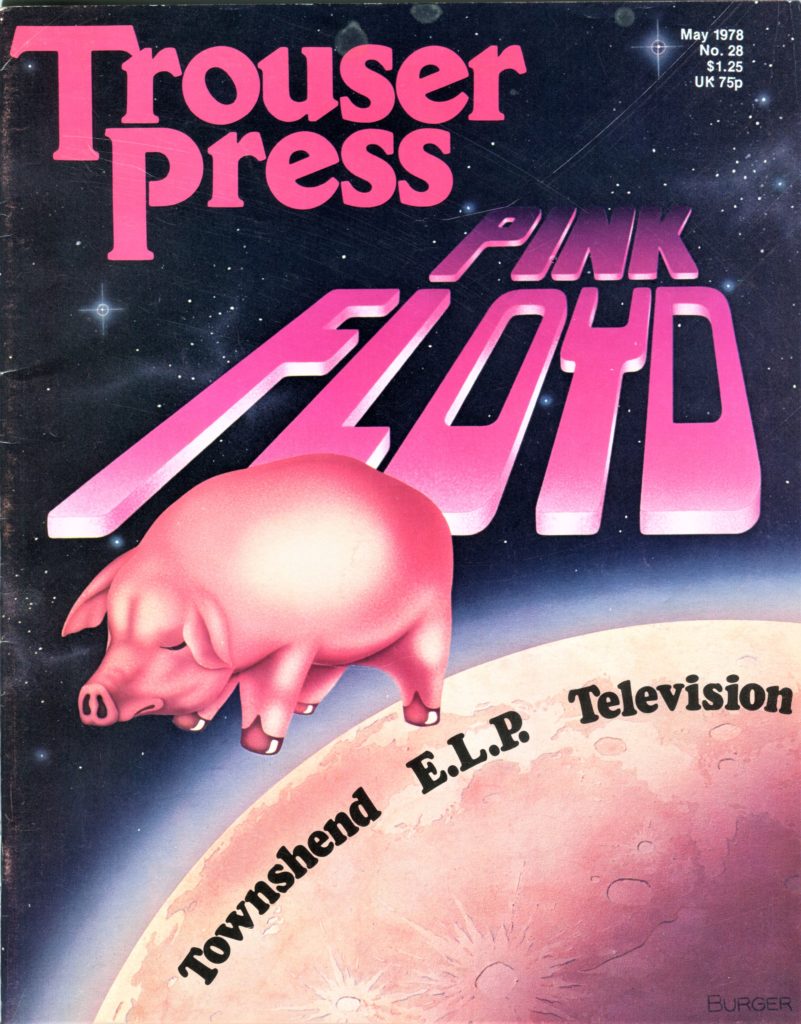 TP 28, May 1978
One of the best illustrations in our wardrobe — Rob Burger airbrushed this image with such bubblegum-perfect colors (and Star Wars type design) that it turned Pink Floyd, at the time a relatively anonymous-looking band, into a gripping cover. A real beaut of a pig.
TP 29, June 1978
We were able to obtain the wonderful vintage Stones snap to accompany Dave Schulps' fascinating interrogation of Andrew Loog Oldham, their first manager and producer. (For more of the same, his memoirs are highly entertaining.)
TP 30, July 1978
Here we are turning 30. The joke in the lower right corner refers to a hippie adage that dates us badly. Somewhere underneath that hair is Todd Rundgren, ending a 29-issue cover run of UK artists. We were still "America's Only British Rock Magazine," but were ready to loosen up a bit. (And running out of British bands we cared to cover.)