Trouser Press Magazine Archive
Trouser Press magazine published a total of 95 issues between 1974 and 1984. They've all been scanned and posted here. The contents are searchable within each issue. Click here for an index of every review, article, column, flexi-disc and news item that ever appeared in the magazine.

TP 81, January 1983
Mitch Kearney photographed a blue-green Peter Gabriel behind bars for his second appearance on our cover.
TP 82, February 1983
B.C. Kagan took this cover photo of her hometown hero, Ric Ocasek, and his fountain of hair. The lavender border was a tribute to the new waver's stylish skinny tie.
TP 83, March 1983
We'd come a long way, baby, since "America's Only British Rock Magazine." On one of our most controversial covers, these vintage Jefferson Airplane photos shook up insecure new wavers who feared we'd sold out or something. As usual, Trouser Press was ahead of its time, anticipating the psychedelic revival by 43 days.
TP 84, April 1983
Ebet Roberts photographed the front line of the Clash in Asbury Park, New Jersey to go with an imagined greatest hits album for "the only group that matters."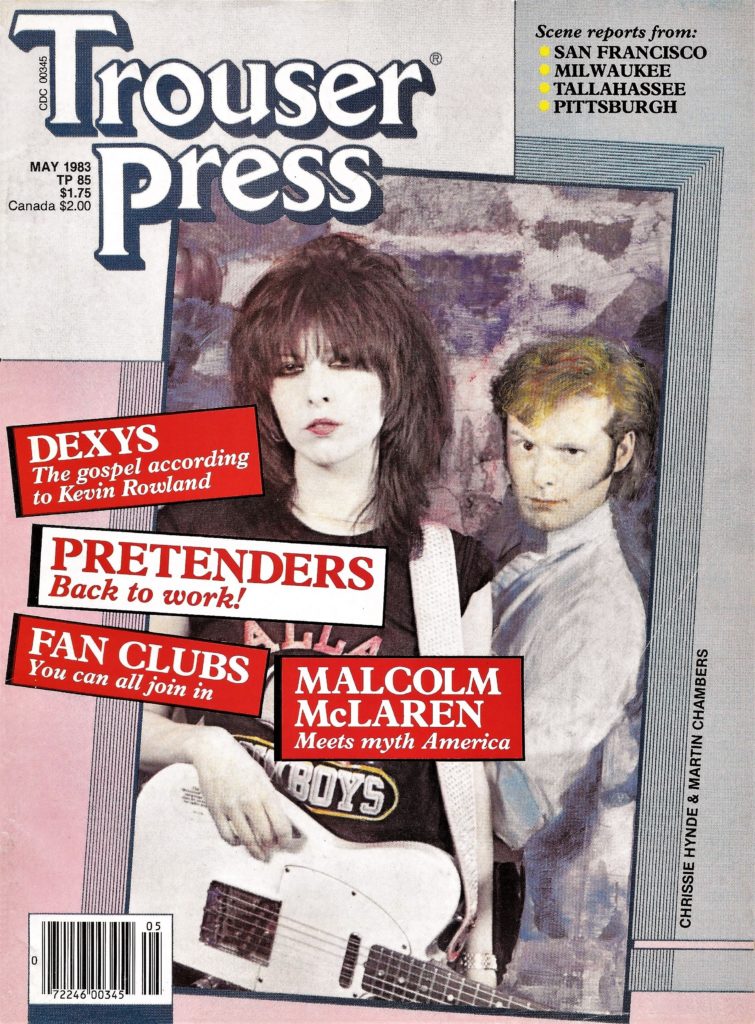 TP 85, May 1983
What to do when a black and white picture is the best thing you have in hand for the cover? Hand-tint the damn thing, which Ebet Roberts did to her photo of Chrissie Hynde and Martin Chambers, then (and now) the backbone of the Pretenders. Inside, in addition to Jon Young's accompanying article, we announced the forthcoming publication of The Trouser Press Guide to New Wave Records, the book that was ultimately the seed of this website.
TP 86, June 1983
What a beautiful photograph of Boy George Laura Levine provided! As close as we ever came to looking like a fashion magazine.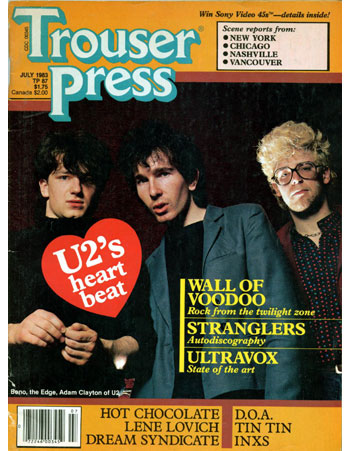 TP 87, July 1983
An innocent design decision — make a horizontal photo of U2 work on a stubbornly vertical cover — led us into a huge row with the band's label or some such over the elision of drummer Larry Mullen. Sorry, gentlemen.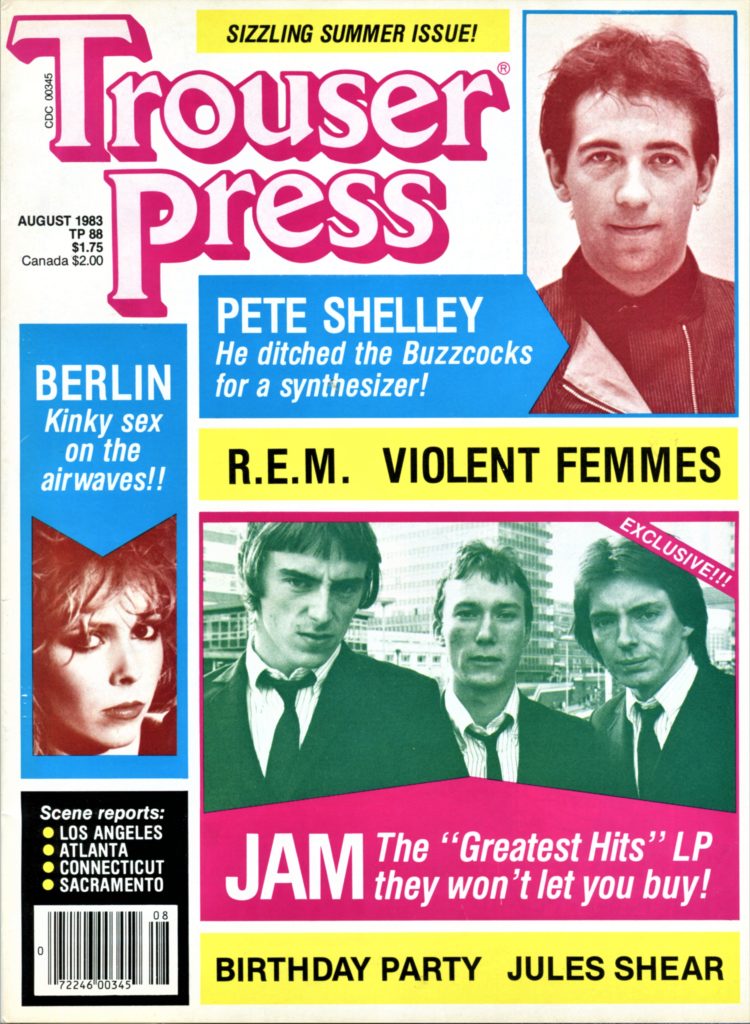 TP 88, August 1983
Yet another cover parody (of supermarket tabloids this time) that nobody got. The Jam article was one of a series we did of imaginary compilation LPs by bands we liked. The band's own Snap! collection, released a few months later, used all but five of our suggestions — and duplicated the first four tracks in the same order as on our do-it-yourself version.
TP 89, September 1983
Photographer Ebet Roberts captured A Flock of Seagulls in all their absurd glory … just for the 21st century record, they looked pretty ridiculous to us back then, too, but they were the first UK synth band to have a real hit record in the United States, so we were obliged. And people wonder why the magazine didn't last …
TP 90, October 1983
Pretty boys like Duran Duran were all the rage in our world as MTV assembled a children's crusade of teenaged fans for style more than substance. Unfortunately, we weren't bowled over by the music, which presented a conundrum — while we could certainly sell magazines by putting glamorous mugs on the cover, inside we had our integrity at stake. The article attached to this image is fairly neutral in tone, but that restraint wouldn't last …