Trouser Press Magazine Archive
Trouser Press magazine published a total of 95 issues between 1974 and 1984. They've all been scanned and posted here. The contents are searchable within each issue. Click here for an index of every review, article, column, flexi-disc and news item that ever appeared in the magazine.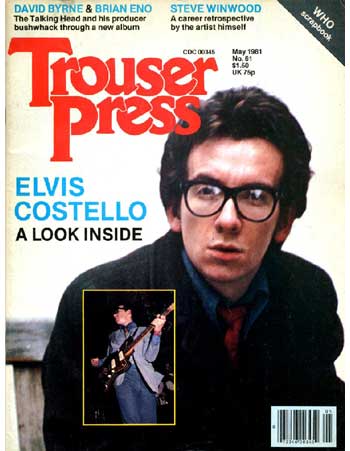 TP 61, May 1981
Making his third cover appearance, Elvis Costello gets the bleak, gray treatment (Bob Leafe's inset photo is more exciting, but not flattering enough for a main image) on our newly narrowed publication. More significant for us, this was the first issue of Trouser Press to have proper national newsstand distribution. (The somber cover would be matched by our spirits months later, when our new domestic partner's slow and ineffective efforts left us distressingly short of income to defray the costs of a greatly increased monthly print run …) Of note to design freaks: we retooled the logo a bit, overlapping letters to make it taller without getting wider.
TP 62, June 1981
Blondie's second cover appearance merited a fanciful cartoon treatment (sorry about that, Clem). At least there was a clear photo of the guitars we were giving away. (That's a funny story. We went to a lot of trouble setting up the contest with record chains and radio stations in several cities, and then the national winner, chosen completely at random from thousands of entries, came from our own backyard, Brooklyn, which looked fishy even though it wasn't. Then the grand prize-winner arrived at our office, in the flesh, to collect her booty, a guitar we were drooling over and couldn't afford to buy. She didn't know how to play, asked if it came with a cable, thanked us as if we had given her directions to Sixth Avenue and then went on her way, as unexcited as she could be. We were crushed.)
TP 63, July 1981
Amy Hill painted this fine caricature of Sid Vicious and Johnny Rotten to go along with a feature about a pair of punk movies (The Great Rock and Roll Swindle and D.O.A.) starring the Sex Pistols. Inside, there's a detailed Autodiscography with Steve Marriott, a David Bowie scrapbook, an article about Dick Clark (!) and a feature on a new band called U2, who — in a horrific display of ignorance — got lumped in with Adam and the Ants on the cover as "English." In the interests of world peace and having already endured decades of shame, we've erased that goof from the cover as it is displayed here.
TP 64, August 1981
Tom Petty was involved in a dispute with his label over being the guinea pig for a new list price for albums. (Geez, $9 doesn't sound like so much anymore, does it?) Hence the headline. Photograph by Ebet Roberts. In the centerfold, a bedspread full of vintage rock magazines from around the world.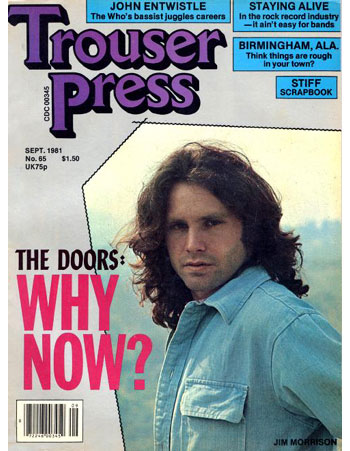 TP 65, September 1981
We were going to headline Todd Everett's cover story on J-Mo "HE'S HOT … HE'S SEXY … HE'S DEAD,' but Rolling Stone beat us to the punch. So we went for a subtle coffin design and splurged on silver ink (actually, the shiny back cover ad for the movie Heavy Metal paid for it).
TP 66, October 1981
For a feature idea that has well served countless music publications over the years, art director Judy Steccone hit all the right lurid notes (and colors) here, bookending Alice and his beloved boa with images of Wendy O. Williams. (Several years earlier, before she was a shock rock star, the onetime stripper made quite an impression in our Times Square office when she dropped by to place an ad for the Plasmatics' first record.)
TP 67, November 1981
Our issues of this era were hybrids of coated paper printed in four-color interleaved with two-color (and one-color) printing on newsprint. As a result, we were able to do color centerfolds, which we generally used to display memorabilia — this month from the world of Patti Smith. Also this month, the introduction of "let it rock!" as a front-cover slogan to help guide newsdealers etc. to rack us with other music magazines, not fashion titles or god knows what else. The exclamatory phrase, while descriptive in its own way, was also an homage to a journalistic forbear, Let It Rock, an English music monthly that we admired. (One belated correction: the Kraftwerk caption on page 15 has the identifications switched.)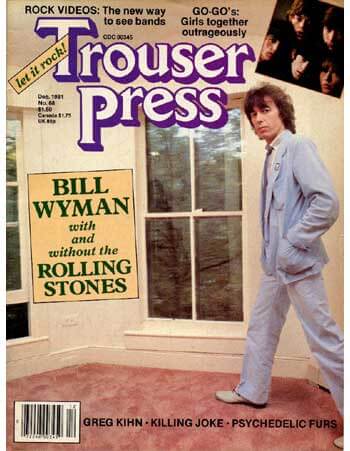 TP 68, December 1981
Love that strolling image of Bill Wyman, looking cagey with his hands in his pockets, by photographer Harrison Funk. This especially slim issue (48 pages plus cover) only had one full-length feature in addition to the cover story — about the creative people behind those newfangled rock video things.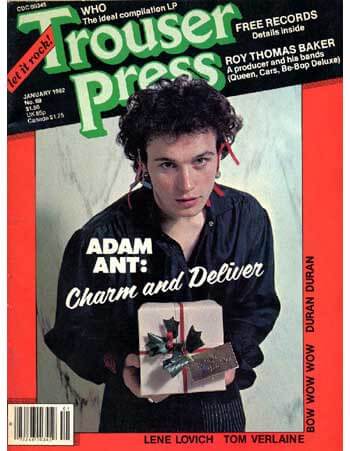 TP 69, January 1982
We were feeling Christmassy this year (as we would again at the end of '83, if you look at the cover of TP 92/93), and Adam was a most cooperative subject. This winsome photo of the early '80s teen idol, which made this one of our best-selling issues ever, is by Mitch Kearney, who shot as many of our covers as we could persuade him to. Another important milestone for us: the first issue to include, for subscribers only, a free flexi-disc with two songs by Orchestral Manoeuvres in the Dark.
TP 70, February 1982
Our idea was to do a different kind of Devo article. They suggested a meeting with Buckminster Fuller or Marilyn Chambers. The former wasn't available, and the search for the latter ended with a vaguely threatening phone message. We suggested William S. Burroughs, abyss-starer supreme. Several dozen phone calls later, the event took place in "Bill's Bunker," Burroughs' loft in New York's derelict district. It's not certain who was talking at whom, but the conversation sure was bizarre. This one New Musical Express reprinted with permission. Cover photo by Mitch Kearney. Flexi-disc by Holly and the Italians. New America Underground columnist: Robert Payes.