One irregular feature in Trouser Press magazine was something we called "Autodiscography," in which artists would offer comments and anecdotes about all of their albums, in order. (According to the TP index, there were 18 in all, including Sparks, Blondie, Roy Wood, Iggy Pop, Ian Hunter, the Ramones, Steve Winwood and Genesis.) We haven't done one since the magazine folded in 1984, but when the opportunity arose to interview Don Powell, the drummer of Slade, it made sense to revive the form. He was a most agreeable and entertaining subject, with loads of great memories.
Interview and editing by Dave Schulps
(Ambrose Slade) Beginnings (UK) / Ballzy (US) (1969)
We'd had to do an audition at this record company, and we'd just got in to do a recording test and the head of the company, a guy named Jack Tavistock, was quite happy with us. And he said, "I've got you to stay in the studio. We can do an album." And we hadn't started writing our own songs then. So that album is actually our stage show at the time.
The few songs we did write on the album were just jams in the studio. That probably makes sense now if you listen back to them, they were just basically just us jamming in the studio.
We had two songs by other Birmingham-area groups. "Knocking Nails Into My House," which was Jeff Lynne, and we all know what happened there and "Fly Me High," maybe the first Justin Hayward song the Moody Blues did after he joined. It was a single that was not on an album. That was a great stage song for us. I was with Jim Lea, original bass player with Slade, yesterday in the UK and we were talking about that song. We used to play with this group in Birmingham called the Way of Life. And we used to just play the pubs and clubs together and who was on drums, but the fantastic John Bonham. He was on drums and that was the very first time we met him, and we became friends. And they were playing the same song, they were playing "Fly Me High" as well.
"Martha My Dear"was Jim Lea because he was classically trained on violin, and it was a really popular stage song. We had to play that so many times a night. And he was getting fed up with holding the violin with the bow and everything. But yeah, when I think back on that particular album, it really brings back a lot of memories.
Our version of "Born to Be Wild" by Steppenwolf tops my list of memories for that album. The reason being is that in 1968 we had this gig in the Bahamas. Of course, we were getting American radio there and that was when we first heard Steppenwolf's "Born to Be Wild." We just freaked out. We never heard anything like it. Well, we went out and got some American kids who we became friends with to go and get the record for us. And we actually learned that for stage while we were out there in 1968.
We did a second Steppenwolf song, "Everybody's Next One." that I believe was from the album they had out at the time. That was another popular stage song as well. Because the majority of people in the UK had never heard that song.
The head of the company just let us four unknowns into the studio with this engineer, Roger Wake, who we'd never met before. He was a great help to us. We learned so much from Roger.
Play It Loud (1970)
That was when we first met Chas Chandler. The original bass player from the Animals and the very same guy that discovered Jimi Hendrix.
When we did the recording audition, the head of the company said, "You really need someone in London to look after you to help nurture your business." We didn't know anyone. And he said, "Well, let me put the feelers out." And then I think it's a few days later, we were still in the studio and I could see Chas Chandler in the control room. I thought, "That's the guy who discovered Jimi Hendrix."
And when we went up, he introduced himself. He was really a humble guy. And then he came about and he wanted to manage us. He wanted to manage and produce our records, which we were over the moon about. This is the guy that discovered Jim Hendrix. Incredible. And that's where that album came from.
And he wanted us to just to write our own songs. Jim Lea and myself were writing around that time, and Noddy Holder and Dave Hill as well. But yeah, that was our first venture in a real studio under a proper producer. We learned a lot about recording when we made the album. It was a great tester for us, that was.
We kept on asking what would Jimi have done? What did Jimi do? I think Chas was getting a bit fed up.
Dave Hill was having a problem getting a sound on his guitar. We hadn't really learned much about recording in those days, about particular amplifiers that you need for the studio, so he says, "Oh, I know Jimi's got a great little amplifier, a little box amplifier, maybe he'll let you use it." So he calls Jimi Hendrix, up and he said, "Yeah, can we borrow it?" He said, "Of course."
So, we all go round his flat hoping to meet Jimi Hendrix, but his girlfriend at the time passed the amplifier through the door to us so we never did get to meet the guy. We had that amp for years and years. I don't know what happened to that. That would've been worth quite a bit now, I would think. Originally a Jimi Hendrix amplifier.
But I really don't know what happened to it. I think it fell apart. I think they used to use it as a tune-up amp in the dressing room many years later.
We just did two covers on Play It Loud. One was The Shape of Things To Come, which was a Mann-Weill movie song [from Wild in the Streets] that was a single for us. The other was a song by Neil Innes from the Bonzo Dog Band called "Angelina" that Chas Chandler found for us.
Like I said, we hadn't really started writing our own songs then. We were just doing that album and he found that song for us. And it's a pretty poppy song really. I think it's an unusual song for Neil Innes to have written, as well, when you think he was involved with Bonzo Dog. It's really quite poppy.
Slade Alive! (1972)
It was Chas Chandler's idea after the album Play It Loud that we do a live album. And that's when he found this recording studio-cum-theater in London called Command Studios. I don't think it's there anymore, but it held about 200 or 300 people. But it was a recording facility as well.
The idea was to record for three nights and pick the best out of each night and cut them together to make the live album, but actually, Slade Alive is all [from] the second night. It was a great experience for us, because I remember we were having so much, you can say success, we were having a great time playing live around England. Getting a really big following.
No matter where we go in the world, that's the only album that people mention. Of all the albums that's the only album they talk about. But don't get me wrong, I'm proud of it. It's a great, great thing.
I must tell you about our very first Australian tour. The album had been released in Australia. We're getting off the plane, I think it was in Sydney, and there's all these TV cameras there waiting and we were looking around. We thought, "Who's on the plane? Who are they waiting for?" And they're waiting for us because Slade Alive! had outsold Sergeant Pepper's!
It was just a mega album over there and we never knew anything about it. When we got there, we had a triple gold award for it and then apparently it went another triple gold after that. And we thought we were just doing small venues, but it turns out we did an open-air cricket stadium so an average of like 60,000 people. It was just an unbelievable tour. That was 1973. Unbelievable, yeah.
"Hear Me Calling" was always our opening song for our live shows. And we could not put that anywhere else in the set ever. It could only be the opening song. But on our first tour in America, I think it was, we were opening for Ten Years After, so we couldn't play it. It was really funny.
I remember them telling us that they earned more money from our version of "Hear Me Calling" than they did their own. And I'm still friends with Ric Lee, the original drummer from Ten Years After, to this day. We still keep in touch, and we see each other where we can. We've become really, really great friends since that very early '70s tour we did with them.
I think "In Like a Shot From My Gun," which doesn't appear on any other Slade album, was one of the first songs we actually wrote together. That was another great stage song as well.
Noddy's vocal on [John Sebastian's] "Darling Be Home Soon" is unbelievable.
In the later '70s, we did an album [Nobody's Heroes] in New York with Chas Chandler. We recorded it at the Record Plant in New York, the place where John Lennon was always recording.
Apparently, he went in to say hello to Chas, because from the days in the '60s with the Beatles, the Stones and the Animals. Lennon was listening to one of our cuts and he just turned around, he says, "I like that singer. He sounds like me." And he just walks out the studio. I thought it was a great compliment for Nod.
All the years we were together, Nod only ever lost his voice about three times, the way he sang. And I remember when he lost it, it went completely. We did this really big 12-week American tour and during that tour his voice went. So our American agent arranged for him to see this voice specialist in New York. Now this voice specialist has got no idea of who Noddy Holder was.
So Nod goes in and he looks his way, he said, "I can't believe the state of your, oh God." He says, "Give me some idea of how you sing?" And he did the opening to "Get Down and Get With It," one of the songs like that, I think the guy's glasses shattered sort of thing. And he says, "I can't do anything for you."
Noddy tried to take really good care of his voice while we were on tour. Like I said it, all the years were together, it only went about three times as far as I know. Unbelievable really the battering his voice got. Unbelievable.
Slade Alive Vol Two (1978)
I think we salvaged the first and third night for that thing.
I remember when Noddy and Jim had written "Mama Weer All Crazee Now." We hadn't really rehearsed it. In the studio, we had about 30 minutes left and Chas, he was great at this kind of thing, said, "Well you got 30 minutes, have you got anything else while we're here?" And Noddy and Jim said, "Well, we have this song." So basically we ran through it just to get the idea of the song. And we didn't know but Chas got the engineer to record it and I think it was the second take was "Mama Weer All Crazee Now."
And that's the one record, I'm sure you must have heard the same thing from other recording artists, when they've heard a finished thing, they're not really sure about it. It's always, "Yeah, maybe we could have done something, whatever." And that's the only cut, we've all turned around each other and said, "That's the one. That's the one." And I think that's fantastic. It just happened so quickly. I'm not sure whether it was because it was just a spontaneous thing, but I think that's what it was. And it was great.
That actually entered the chart at number-two. That was the first record that went like that. We were listening to the chart rundown and we thought, "No, it's not there, it's not there. And as they got down to the Top 10 we thought, "No, it can't have got into the top 10, not in the first week." And then when it came down to number two, we thought. "What???!!!" It was like four young kids dancing around the Maypoles. It was unbelievable.
Slayed? (1972)
The first one that got some traction in the US and that we came over to support. It contained "Mama Weer All Crazy Now" and "Gudbuy t' Jane," which was another great single. But it didn't make number-one in the UK, only number-two and they said we were finished because we didn't get to number-one.
I think it's at the start of "I Won't Let It 'Appen Again" where I go, "Yeah!" I'll tell the reason for that, because it was just a great groove straight away. I couldn't stop myself. I had to shout, "Yeah." It's happening. I think the engineer tried to get rid of it, but he couldn't because it leaked over all the drum mics so he couldn't get rid of it.
It's another great stage song. I was in the UK yesterday with Jim Lea and we were just working on a few things and someone came up and they were actually playing that particular track. I hadn't heard that for years. That brings back a lot of memories. They were great songs to play.
Sladest (1973)
I don't know why in the UK the policy was to release a lot of non-album singles, but I know for a fact in the States that it was a big thing to put singles on albums. It's a different situation in the UK, but in the States it's the done thing. We could never understand why they were never included at home.
It strange that the first few tracks were all things that had never been on albums before. I'm not quite sure whether we were in between labels there. That could have been the thing. I don't really know. Because I think we were on Polydor at the start of the American visits. Then we signed to Warners, and so I don't really know what the policy was there.
Old New Borrowed and Blue (UK, 1974)
Stomp Your Hands, Clap Your Feet (US, 1974)
We did that at Olympic Studios with Chas. We did all of our early albums in Olympic. Sadly, it's no longer there. The building is there but it's like a cinema now. But lots of great memories there.
They were quite poppy songs if I remember right. I'm not quite sure. Thinking back, I don't know where we were right then, because if I remember right, we hardly played any of the cuts from the album on stage. Interesting that.I know we were all mega-Beatles fans. Whether we're trying to do a Beatles style album, I don't know. But yeah, could be. I don't think we played any of those cuts on stage. Actually, I know we played "When the Lights Are Out" a few times. Jim Lea sang it. "We're Really Gonna Raise the Roof," I seem to remember playing that a few times. But yeah, that was about it really. Interesting though.
Slade in Flame (1974)
That was another album I really enjoyed. It was something interesting. That was from the movie that we made, Slade in Flame, and so all the cuts were relevant to certain scene in the movie. I think I really enjoyed that album because we had a brass section augmenting and that was great fun, that was something different for us.
"Far Far Away" is my very favorite Slade cut because of Noddy Holder's lyrics. We were touring the world nonstop then. And those lyrics just depict all that out in the world, so I've got a soft spot for that particular song.
The rest of the album was just songs that Noddy Holder and Jim Lea had written, and they were all put together. I always think that that could have been recorded better. That's my personal thing about that. I think "Them Kinda Monkeys Can't Swing" could have been recorded a better way. We used to play it on stage and it was great song to play live. But I think what we should have done is maybe start to play it live a few months before we actually recorded it. I think the actual recording doesn't capture the way it was on stage. I'm sure that's happened with quite a few people with cuts like that.
Nobody's Fools (1976)
That's actually my favorite Slade album. I think the reason is because it was a different way of recording for us when we recorded in the Record Plant in New York. It was a bit cleaner, if that makes sense, and a bit more laid back to what you normally expect from Slade.
And that's what happened with the rest of the world. People weren't expecting it. People thought it was a bit too clean. But it is my favorite album, because it was just a different way of recording for us and the engineer, a guy named Dennis Ferrante, worked great with us. I loved working with Dennis at the Record Plant. I really enjoyed that album, but people didn't expect that from us. "Nobody's Fool" was a great single and it didn't do so well either. It was a bit too clean for what people expected from us, especially in UK and Europe.
Whatever Happened to Slade? (1977)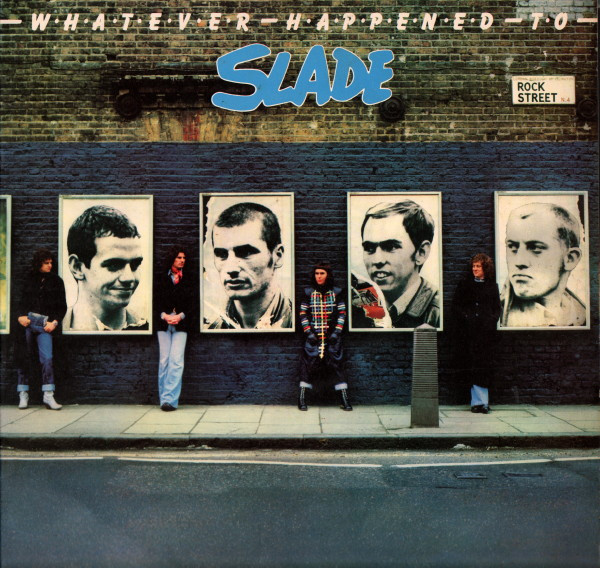 That was just a tongue in cheek title for that because we hadn't had any success for quite a few years. We were still touring, playing smaller clubs and things like that, but still getting off and having a great time. We purposely went in a harder rock direction on that one. That was the way we were going then. We wanted a harder sound. But if I remember, I don't think that did too well for us really. I think it was the initial sales for the following that we had. But yeah, I enjoyed it, I enjoyed it.
Return to Base (1979)
Like Whatever Happened to Slade?, Return to Base wasn't released in the States. It has our version of Chuck Berry's "I'm a Rocker." That was another great song for stage. We used to do it for soundchecks, for our sound guys, so they could get everything together.
"Wheels Ain't Coming Down" was a true story. It was on a U.S. tour. I can't remember which city or wherever we were, but we were en route somewhere and we're coming in for a landing. We're started to descend, but the wheels wouldn't come down. I was quite frightened. [The plane] circled a few times. In the end, [the pilot] did about three or four attempts and he still couldn't get the wheels down. It was starting to get a bit scary. He actually came on after the fourth or fifth time and said, "I'm sorry, but I've got to go for it this time, because I'm running out of fuel. I've just got to go for it."
So we have to take the brace position. But luckily, as it happened, would you believe the wheels came down? Can you imagine that? We'd done about four times and they wouldn't come down and this was the last one. This was going to be the one, and they actually came down. You can imagine the roar in the plane as we landed, all that. Oh, God. I mean, even when the captain came out to the cockpit, he was basically like, "I can't believe what just happened." Unbelievable, that was. Yeah, that's a true story, that one. That's where that song came from.
"Ginny, Ginny" was also a single, but it didn't do anything for us. I think at the time we didn't really have that much material and I think that was probably the best of a bunch that we used that one. But it didn't particularly set the world on fire.
We'll Bring the House Down (1981)
The record company wanted something and we didn't have anything. We hadn't really got that many songs. I've got to be quite open there with you. I think basically it was a put-together album just to please the record company [Cheapskate].
Till Deaf Do Us Part (1981)
I quite enjoyed making that, and it was interesting, because it was the first time that we did it [produced] ourselves since Beginnings [Ballzy]. It didn't do so well for us. I think it was a bit too heavy for what people expected from us. We went in a bit of a strange direction there — the wrong direction, to be honest. The album cover didn't go down so well, either. I think there was a loose end there, and it didn't do what we expected.
"Knuckle Sandwich Nancy?" I don't know whether you have it in the States, but a knuckle sandwich is a punch in the face. I don't know how that came about, thinking about it now. I think it was just one of those phrases that we always remembered, and Noddy wrote the lyrics around that.
The Amazing Kamikaze Syndrome (UK 1983)
Keep Your Hands Off My Power Supply (US 1984)
Keep Your Hands off My Power Supply was the title put forward by the American company. That was the title they wanted to use, so that's where that came from. Different album cover as well. We didn't [want] to [tell] the record company that we weren't too impressed with it. So yeah, there you go.
I think what helped make it a success was MTV. We had "Run Runaway" and things like that. We did that video at a big castle in the center of England, where we'd actually played in the '60s. We got booked to do a gig there. We were still based in our hometown, were just sort of playing bars and clubs in those days. We were booked to play a party at this castle where we later did the video for "Run Runaway." When we got there, it was Sammy Davis Junior, Peter Lawford, Jerry Lewis — they'd just finished a film. They didn't particularly ask for us, they just asked for a band from this agency and we went there, and we played the film's after-party. It was before the days of anybody having cell phone cameras and everybody kept on shouting to Sammy Davis Junior, "Get up and sing. Just get up and sing." Of course, he gave in in the end and he said, "I'll just take the drummer." There was just me and Sammy Davis on stage, and we played one of his show songs. I can't remember which one it was now, but one of his well-known songs that I knew. And so it was just me and him playing. He came to a stop, of course, and I stopped, and he turned round and put his thumbs up. He probably didn't expect me to know the song. So that's my claim to fame, that I played drums for Sammy Davis Junior.
Rogues Gallery (1985)
We were trying to make a bit of an inroad in the States, and it was pretty influenced by the American music scene at that particular time. I think if I listened to a lot of the cuts again, I'd find a lot of influence from the American situation. Sharon Osbourne was looking after us at that time, and we were due to do that tour with Ozzy. But sadly, Jim Lea went down with hepatitis and we had to knock it on the head. Sharon wanted for us to carry on doing promotion because things were looking pretty good for us, so we stayed over there for quite a few weeks extra, doing radio and [other] promotion. We did quite a good video for "Little Sheila" [which would turn out to be Slade's final U.S. chart single and a U.S. rock radio Top 20] as well. I think that was intended for MTV, but I'm not sure whether it actually got on there. But yeah, I remember I quite enjoyed recording that song.
Crackers (The Christmas Party Album) (1985)

The record company wanted us to do something like that and [gave us] a list of songs to cover. They wanted us to do a party album. I can quite honestly say wasn't it my favorite period. I wasn't too enamored with doing that kind of thing. I thought it was a bit of a — I don't know how to say it — a bit of a copout, really.
It did have "Merry Xmas Everybody" [Slade's last UK number-one and a perennial holiday favorite there]. We recorded that in New York in the summer of '73. We had just finished the tour, or were halfway through a tour of the States then. I seem to remember we had a week off in New York. Chas was with us and he said, "Do you have anything? Any songs?" It came out that we'd got this Christmas song. They played it to Chas on the acoustic guitars, and he said, "We have to get this down." So they booked the Record Plant. Now, there was 100 degree heat there, July, right, and there we were singing Merry Christmas. It just didn't seem right somehow. Would you believe we didn't want to release it when we finished it? We weren't sure about it at all. But Chas Chandler, who was still our producer at the time, said, "I don't care what you lot say. This is coming out, this is being released." It just went ballistic. It did a million the first day of release in the UK and was still number-one in January. It was just unbelievable, really. Apparently, our record company had to go to other record companies' plants to keep up with the demand, to try and get the records pressed. Unbelievable.
There were a lot of Christmas singles that year. There was Wizzard, there was Elton John. There was a glut of Christmas records, but we were having an incredible year anyway, record success-wise. Roy Wood's never forgiven us for [keeping him out of the number-one spot]. I haven't seen him for a long time. A friend of mine named Dave Donovan used to play drums for him, for Roy Wood's Wizzard. I remember going into the studio with Dave while Roy Wood was in the studio. He was trying to do a Phil Spector, but he was sort of in the studio for weeks and hardly got anything done. But he's a very talented guy and a great songwriter.
You Boyz Make Big Noize (1987)
Actually, that title came from the cleaning lady at the studio where we recorded that, because she was sweeping up or cleaning up after one of the sessions and we came out of the control room and she said, "You boys make big noise." Roy Thomas Baker produced that. He actually had this guy, I can't remember his name now, his engineer from the States, who he'd worked with for many years, come over to the UK to do it with him. He got this incredible drum sound in the studio. It was absolutely thunderous over the big [monitors]. I've never heard anything like it. He had over 30 mics on the drum kit. But if I played you the cut and said, "How long do you think it took to get that drum sound?" You'd probably say, "An hour." I was in the studio for three days while he was doing different mics and all… I was getting to hate that guy because I was just there playing drums the whole time.
"Still the Same," I quite enjoyed. "Love Is Like a Rock," I like that as well, because that was quite a heavy song for us, really. I enjoyed recording that one. But Roy Thomas Baker just spent so much time over things. We weren't used to doing that. We used to go in and just bang things down while we had the momentum going in. We could've captured that album a lot easier, a lot better, I feel. It turned out to be the last studio album by the original Slade.
Slade II: Keep on Rockin! (1994)
That was just Dave Hill and me in the lineup there. There was this guy in Belgium who had this record company and he wanted to sign us, and he booked a studio in Belgium, where we lived and recorded that album. Actually, that's an album I quite enjoyed recording as well. That was good because the engineer, Stephan, wasn't using too many tricks. We just went in and played, and I quite enjoyed that. The bass player at the time was a guy named Trevor Holliday. I can't remember which cut what we did first, but it worked so well we just thought, "Let's carry on. We've got it going." We actually finished all the cuts for the album on the third day, and I loved that. We just went in and played. The momentum and the excitement was there. It was a great way to work, that was. I felt quite happy about that.
Quatro Scott Powell (2017)
We all knew each other, obviously, from the '70s, with the hit records and did all the TV shows together. We'd just done this big festival together in Germany, Suzi [Quatro] with her band, Andy Scott with Sweet and me with Slade. Andy, Suzi and myself were just sitting in the hotel after the gig and we were just out having a drink together and it was Andy who said, "This'll make a good band." I thought, "Oh yeah." We never thought anything more of it. Then Suzi's husband contacted me and said, "Are you up for it?" I said, "Yeah," because we were doing nothing with Slade at the moment.
We just got together and did a few of the songs Andy and Suzi have written between them and a lot of covers. We actually went down to Peter Gabriel's studio in the south [Bath, England]. It's residential, you live there, and that was a great time. That was another album I enjoyed doing, that was great. We just went in and played, no click tracks, no things like that. We just went in 1, 2, 3, let's go, and it was done pretty quickly. We toured it in Australia because Suzi tours there every year, would you believe? The album was released in Australia and went Top 20 there, so we were asked to tour. Andy, Suzi and myself, we were the opening act for Suzi. So she did the set with Andy and myself, then she went and got changed and went on to do her own thing. That was a great tour, actually, really good fun. We finished up with a great gig. I'd been to Australia three times before with Slade, but never played at the Sydney Opera House. The last gig with Andy, Suzi and myself, we played there, so that was quite a buzz.
Don Powell's Occasional Flames:
Taping the Hiss (2019)
Just My Cup of Tea (2021)
That's just me and two guys. Paul (Cookson), who's like the poet, and Les (Glover) on guitar and vocals. They contacted me and asked if I'd be interested. I was. We wrote the songs all together and put 'em down really quickly. I told them, "I just want to go in the studio, 1, 2, 3, let's go for it. I'm not into doing 50 takes and things like that. If we haven't nailed it in the third take, let's go to another song."
About two or three times a year, this guy organizes a Slade convention. He asked us to play at it, and so we actually played at the Slade convention, which was quite a strange thing for me to do. It was actually quite good. A good laugh. He gets about a thousand people there, a lot of people I've known from over the years. He does a great job organizing it.
This past week, Paul, Les and I made contact again, and we're thinking about doing some more things together, because we did have a great time doing it. It wasn't thought about too much, and I'm not saying that in a negative way. We just sort of went in and we just had a laugh and did it. A lot of times it was just sort of Les myself on the basic tracks. It's nice for me because it's different ways of recording than I've been used to, so it's a nice sort of a learning curve for me as well.
Don & the Dreamers:
It's Never Too Late to be a Rock Star (2023)
Recording that was great. Henrik (Littauer, keyboards), the guy who put it all together, contacted me. The other guys in the band — Knud (Møller, guitar), Helge (Solberg, bass) and Curly (Erik, vocals) — are all well-known musicians in their own right. My wife Hannah was telling me they're all quite well-known and respected musicians in Denmark from different bands that they've all been in. I just went in the studio near Copenhagen and the same thing, those tracks went down really quickly. I love that way of recording, not laboring anything. We just went in and did it. I can honestly say it's one of the most fun I've had for a long time in the studio.
---
And also…
[Don lives in Denmark.]
It's been nearly 20 years. I met my wife here and she's got three children from a previous marriage. At the time Andrea, her little boy, he was only seven years old and he couldn't speak English. I thought, "Well, I can't take him to England, he'll get slaughtered." It's a hard thing, so it was easier for me to move to Denmark, because the world's become a small place today. It's so easy to travel these days. It's unbelievable. I came back from England. I've been working with Jim Lea on some solo stuff he was doing and he asked me if I would do drums for him, and I said, "For sure, for sure." With Jim, it's a bit like a marriage. We've been together for so long there are no complications there. We both know exactly how each other plays, so it was easy to do. It was nice being in the studio with Jim, because we haven't recorded together for many years now. It was a bit like putting the glove on, it just fitted perfectly.
I spoke to Nod earlier this week. We get together occasionally, if we've got time, about three times a year. It's an organized thing. About 30 of us, like, musicians, actors and writers getting to have a lunch in London. There's a session guy there, he's played drums on over 200 hit records, 65 number-ones he's played drums on. He's got some incredible stories. It's things like that, it's a great afternoon that these guys we get together. If only those walls could talk.
I haven't spoken to Dave for quite a while now [Hill reportedly fired Powell from a reunited Slade in 2020], but I think he's been doing some solo recording as well. I don't know.
[A memory about Jimmy Page]
We did this recording audition many years before, with the original band [the In-Betweens] that Dave and myself were in, and this guy who's producing the record says, "I've got this session guitarist friend who's just started writing songs." And he says, "I'll bring him round." And it was Jimmy Page. Really short hair then. He brought his guitar, his amplifier, expecting to play on the session, but we wouldn't let him. So we recorded one of his songs. It was called "Little Nightingale" [and was released in France]. Oh, I remember this vividly. And I think he was there, hoping to play on the cut, but we wouldn't let him.