By Ira Robbins
Updated with additions 11/22/21
I've been doing a lot of reflecting on the past these days. I've also been thinking about records and the stores where I used to buy them. Despite streaming, rents, corruption, consolidation, an epidemic and other deleterious factors, New York still has a number of going concerns, but I recently got it in my head to see what became of the places that are now gone.
While I'm not sure what value these pictures of places that used to house New York City record stores hold, some mixture of nostalgia and curiosity got me out of the house to go photograph them.
Downtown
Discophile (26 West Eighth Street) opened in 1958, specializing in opera, classical and imports. Franz Jolowicz, an intimidating European whose death in 2005 merited a full obituary in the New York Times, owned and ran the small store, which was down a couple of stairs. An expert in classical music and opera, he famously stocked pirated concert recordings, but it was his employee, a young rock fan named Michael Searles, who presided over the rock imports that made Discophile essential to me and other rock fans. Michael stocked Trouser Press in the store and ran ads for glam-rock, new wave and indie records in the magazine. I wasn't too interested in the UK Beatles pressings and prog rock that made up a lot of their stock, but I bought a lot of records there and have fond memories of pals dropping in while I was standing around shooting the shit.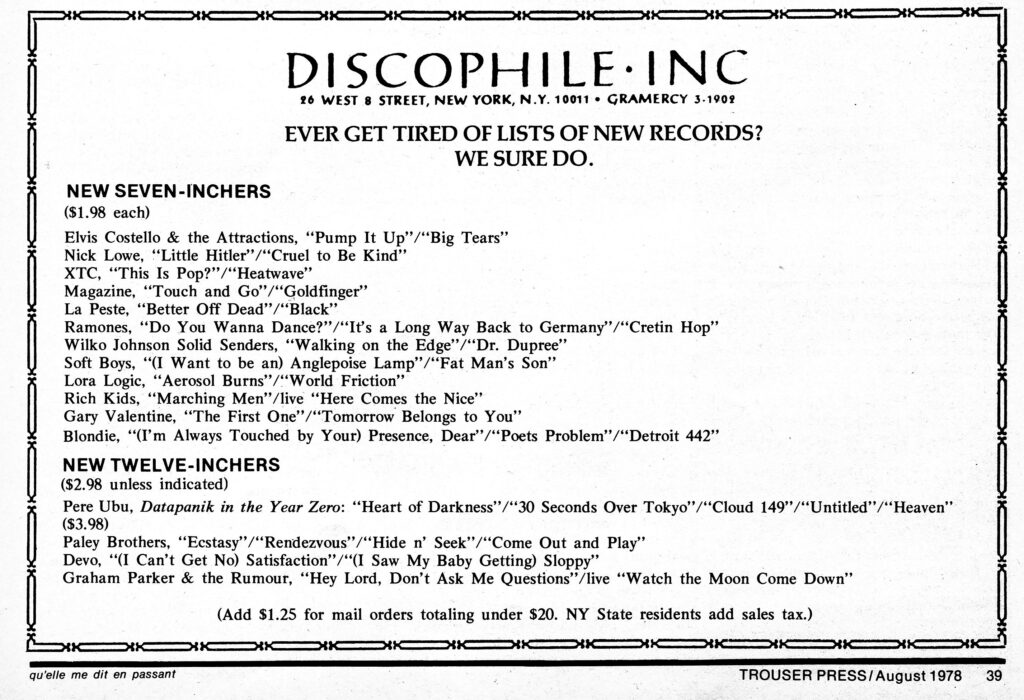 Discount Records
The alphabetical arrangement is entirely coincidental. Discount Records, the Manhattan branch of a major chain in the 1970s, was at 34 East Eighth Street. It's now an NYU French Studies building with a University Place entrance and address. (Not all of the school was Discount Records: there was a Zum Zum German chain restaurant on the corner, so the building's structure must have been altered at some point.)
The store was pretty mainstream, but it did have something on the ball, thanks to a staff that didn't simply follow corporate directives. Still, although it was an unlikely fit for an Anglophile collectors' magazine devoted to the Who, Jeff Beck and Peter Frampton, thanks to the assistant manager, Scott Isler, they sold the magazine and even advertised on occasion. The onetime Fillmore East usher and now one of my oldest and dearest friends, Scott went on to serve as art director and ultimately editor of Trouser Press. But in 1974, Scott bought a copy of the first issue and liked it enough to write us a letter, published in the second, that promised "to spread the word." Once we found out he worked at a big record store, we made our pitch, and soon Discount was the second outlet for our fledgling effort at music journalism — and the biggest advertiser in issue 3!
---
Free Being
Free Being was at 129 Second Avenue, just below St. Marks Place — a block north of the former site of the Fillmore East and on the same block as Gem Spa. My childhood friend Binky Philips worked before moving on to St. Marks Sounds.
I probably sold more promos than bought records there, but it was a great place to browse for stuff I didn't even know existed, and plenty of the vinyl on my shelves still has their sticker on it.
The 129 address now belongs to Taqueria Diana, but the doorway with the number on it is the entrance to some apartments.
---
St. Marks Sounds
This was where the first St. Marks Sounds, a store I probably shopped in more than any other, stood. They bought and sold promos and used records, and when I was hunting for titles I needed to review for the Trouser Press record guides, Sounds was the most likely place to find them. The narrow location at 16 St. Marks Place was a spinoff of Free Being, located around the corner on Second Avenue.
The store eventually moved two doors down to bigger digs at #20 (see below), but it was up a short flight of stairs, weirdly claustrophobic and never felt comfy the way the original shop had. It closed in 2015.
---
Golden Disc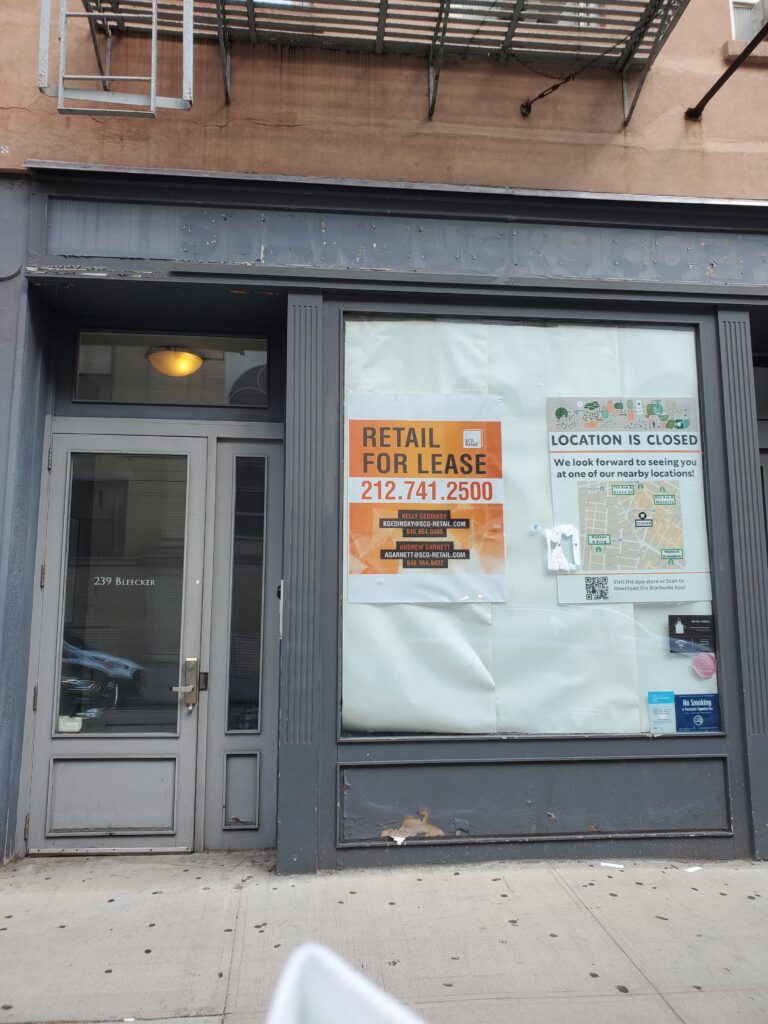 One of the top downtown collectors' shops, Golden Disc, at 239 Bleecker Street, was just a few steps west of Sixth Avenue and a regular stop on my rounds. The owner, a friendly schoolteacher named Dave, was a regular and reliable (if occasionally annoying) advertiser in Trouser Press, pretty much from the beginning to the end of the magazine. Meanwhile, his business evolved from '50s / '60s rock and roll to the same sort of modern stuff everyone else carried. Although Golden Disc was never hip, the store briefly had a label that released records by the Speedies and the Victims.
---
Bleecker Bob's
The late Bob Plotnik, a lawyer and irascible prick, first opened Village Oldies at 149 Bleecker Street in the 1960s. Lenny Kaye worked there. I wasn't much of a collector of oldies then, so I only in there a few times. But on Thanksgiving 1973, Dave Schulps and I found ourselves in the shop with two other people: a clerk (maybe Lenny, I wouldn't have recognized him yet) and Bob Dylan, who was looking for LPs by Lee Hazlewood. This is what now occupies that space.
Later in the 1970s, Bob (P, not D) opened a store under his own nickname at 179 MacDougal Street. In 1981, he moved the shop to 118 West 3rd Street. His stock was incredible, the staff peerless, but his prices were high and any interaction with Bob himself was sure to be unpleasant. He threw me out once after I cost him the $50 sale of a Creation (the band, not the label) compilation by promising Paul Weller he could have my spare copy. I also recall being horrified that, rather than going to the bother of importing and paying for them, he was making and selling his own photocopied issues of Mark Perry's photocopied British punk fanzine Sniffin' Glue.
This is where the West 3rd Street location was until it closed in 2013:
There is a short documentary about the store:
---
It's Only Rock 'n' Roll
Gravel-voiced ball of energy Marc Zakarin ran this collectors' store — packed with more memorabilia than records, I suspect — on the second floor of 49 West Eighth Street in the West Village. The store is gone but the business survives online, augmented in recent years by Marc's surprising sideline as a standup comedian.
I knew Marc and his wife Deb from RockAges, the record collector shows he promoted in the early '80s. Trouser Press usually took a table and created a special issue of Trouser Press Collectors' Magazine as a tie-in. When we shut down our business, Marc took a load of back issues from us to sell on consignment and, if memory serves, never paid us for them.
---
Venus
I don't remember anything about Venus Records, although it was in the thick of things at 61 West Eighth Street and was a Trouser Press advertiser on occasion. The most recent occupant of the space was Būmu, a fancy Japanese restaurant that opened in late 2019 and closed four months later.
---
99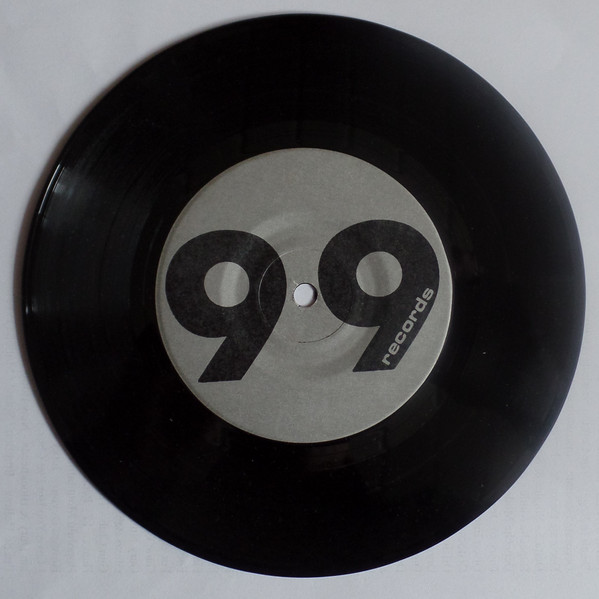 I might have been inside 99 Records once. The store (and label) was down a few stairs at 99 MacDougal Street — directly across the street from the townhouse Bob Dylan bought in 1969 and less than a block away from the legendary Folklore Center. 99 was deep into early '80s no wave/post-punk funk, releasing records by ESG, Liquid Liquid, Glenn Branca and others. Not really my scene. But Trouser Press art director Judy Steccone was good friends with owner Ed Bahlman and his girlfriend Gina Franklyn, so when they put out the Bush Tetras' memorable "Too Many Creeps," she did the artwork for it. (Franklyn, who originally took the MacDougal Street space to sell clothes, later opened a British import fashion shop in the East Village and called it 99X.)
---
Tower Records
When Tower Records planted itself at 692 Broadway in the heart of NYU land, the store quickly became the city's biggest and most impactful record retailer. Well-stocked, well-organized and staffed with hipsters, it was not the coolest store in town, but certainly a regular stop on the music trail. Closed at the end of 2006. (There's a documentary film about the chain.)
---
Tower Clearance Outlet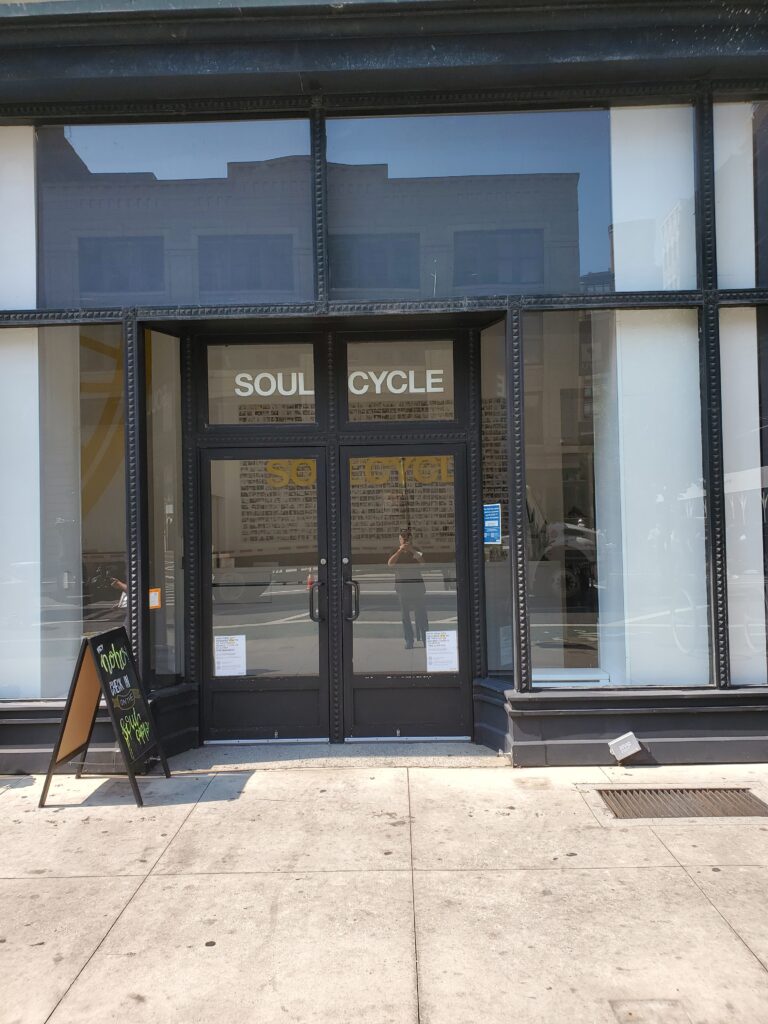 Tower eventually opened a discount outlet at the other end of the block, at 20 East 4th Street, with frontage on Lafayette Street. (Keith Richards lived for a while in an apartment on East 4th, between the two stores. I wonder which one he patronized more regularly.) For those of us raised on cutout bins, there was a lot to paw through here looking for bargains and unexpected retail castoffs.
---
Other Music
Visionaries on a substantially different mission, Other Music — opened by savvy alumni of Kim's Video — had the courage to plant itself a few hundred feet from the front door of Tower at 15 East 4th Street. There's a fine documentary film about the store.
---
Second Coming
This restaurant (at least there's something in the space) was Second Coming Records at 235 Sullivan Street in the West Village. It was a big, airy store, but I never bought much there. The guy who ran it, Andre, stocked (and, for all I know, produced) a lot of bootleg albums (as you can see from this 1982 TP ad), but also had a decent stock of legit stuff. Plus posters. A raid at the behest of copyright holders knocked the store for an ultimately fatal loop.
---
Record Runner
The late Keith Sluchansky ran Record Runner out of a basement at 5 Cornelia Street. I can't recall if this was the staircase leading to it, or the next one along was. The shop was small and claustrophobic, with a low ceiling, but Keith dug music, knew his shit and was a friendly guy. His slow-rolling thoughtful manner that could be a little disorienting, but he was always good to do business with. Here's one of his ads:
---
At 157 Prince Street, Rocks in Your Head was one of the few music retailers set in Soho, an area now far too pricey for such a thing. When the store opened in 1978, the monthly rent was $300; when it moved to Williamsburg in 2006, that nut was more like $5,000. I don't know how long it was there, but I believe the Roebling Street address now houses a tanning salon.
---
Midnight Records
J.D. Martignon, a wiry and enthusiastic Frenchman, ran the Midnight garage-rock label out of his store facing the Chelsea Hotel at 263 West 23rd Street. He opened for business in 1984 and later expanded to take over a space next door.
I went in there a lot, even though there was nothing else nearby. On at least one occasion, I looked up from the rack of albums I was pawing through and recognized the fellow on the other side, doing the same thing, was Tom Verlaine.
J.D. once landed on the front page of a New York tabloid — and not for anything to do with records. The building in which he lived suffered a catastrophic fire one night and he was photographed, naked as a jaybird, ass to the camera in a fireman's carry. He survived that calamity but died years later, in 2016.
---
Musical Maze
There were two Musical Mazes and both of them had illustrious staff. Trouser Press co-founder Dave Schulps worked at the uptown branch at 1496 Third Avenue (between 84th and 85th Street). So did a guy called Bryan Gregory. When Dave left the store's employ in 1976, a recent arrival from Cleveland named Lux Interior took Dave's place. The store was a short walk from Lux's East 73rd Street flat and played a crucial role in the evolution of the Cramps, the band Lux and Bryan formed, who reportedly rehearsed in the basement for a time. The location, now absorbed into the larger ground floor of Evans Tower, a high rise at 171 East 84th Street, was a Loft brand women's clothing store but is now, as they say, available. (Thanks to MM owner Burt Goldstein for supplying the address.)
The downtown location at 294 Third Avenue (just below 23rd Street) had an equally cool staff. After relocating from North Carolina, Peter Holsapple of the dB's worked there; he got the gig through George Scott of the Contortions. Once ensconced, Peter got Lance Loud a job at the store, "but he bailed after about three days. Ed Ryan from the Rudies/Day Old Bread worked there, as did Drew Wheeler from New York Rocker magazine." Peter recalls it as "a great little record store that catered to SVA [the nearby School of Visual Arts] students and guests from the Gramercy Park Hotel. Unfortunately, there was a high-level whorehouse in the building at the same time, so all the press for the arrests showed the Musical Maze sign prominently displayed in every photo."
The location recently housed a bar called Ampersand, but that's gone as well now.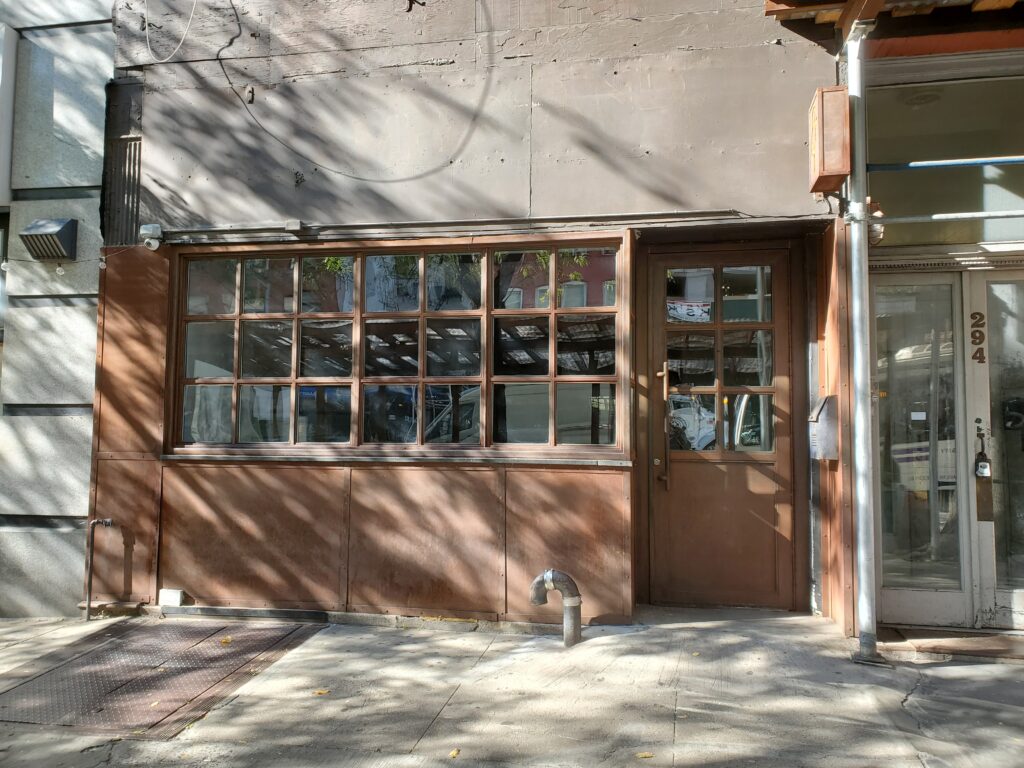 ---
Midtown
King Karol
Ben Karol had his flagship store at 126 West 42nd Street, between Sixth Avenue and Broadway — steps from the heart of Times Square and the first Trouser Press office. It was a big, ugly place with a very tall front window (like two stories); the clientele was probably tourists and mainstream music buyers. The buildings on the block were all eventually torn down and replaced; this photo shows 120 and 130 West 42nd Street — there is no longer any structure numbered 126.
---
Virgin Megastore
I was a frequent customer of Richard Branson's well-run, well-stocked multi-level store at 1540 Broadway. The place not only stocked a deep and wide variety of music, film and books, but its British origins meant choice imports as well. Now the space houses a budget clothing ("fast fashion") chain store.
---
Colony Records
The grandaddy of New York collectors' shops was a West Side fixture for 64 years, occupying several locations between 49th and 52 Streets on Broadway. I remember going there when it was at 1619 Broadway; now the space is occupied by a CVS. I always found it musty and daunting, a pricey library of oldies, show records and sheet music. A writer I knew worked there for a while, but even that didn't make it any more inviting to visit.
---
Sam Goody
Yes, there was a Sam Goody, although he was born Samuel Gutowitz and he looked exactly like you would imagine.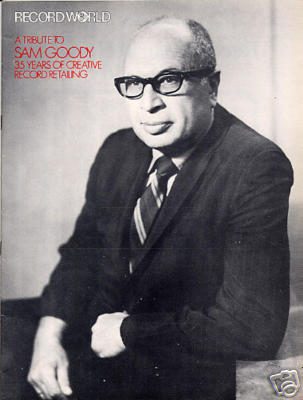 It wasn't his original location, but the first Goodys I shopped in in the 1960s was the big one at 235 West 49th Street. (There was a discount outlet, maybe on West 48th west of Eighth Avenue, but I can't locate the address. They once had a nine-cent clearance sale of cutouts and I hauled home a stack of mysteries, a few of which turned out to be worth keeping.) A swanky hotel is now there, taking up the space but using a different address. (The adjacent building, 239 West 49th, is a church that was there long before Sam set up shot.)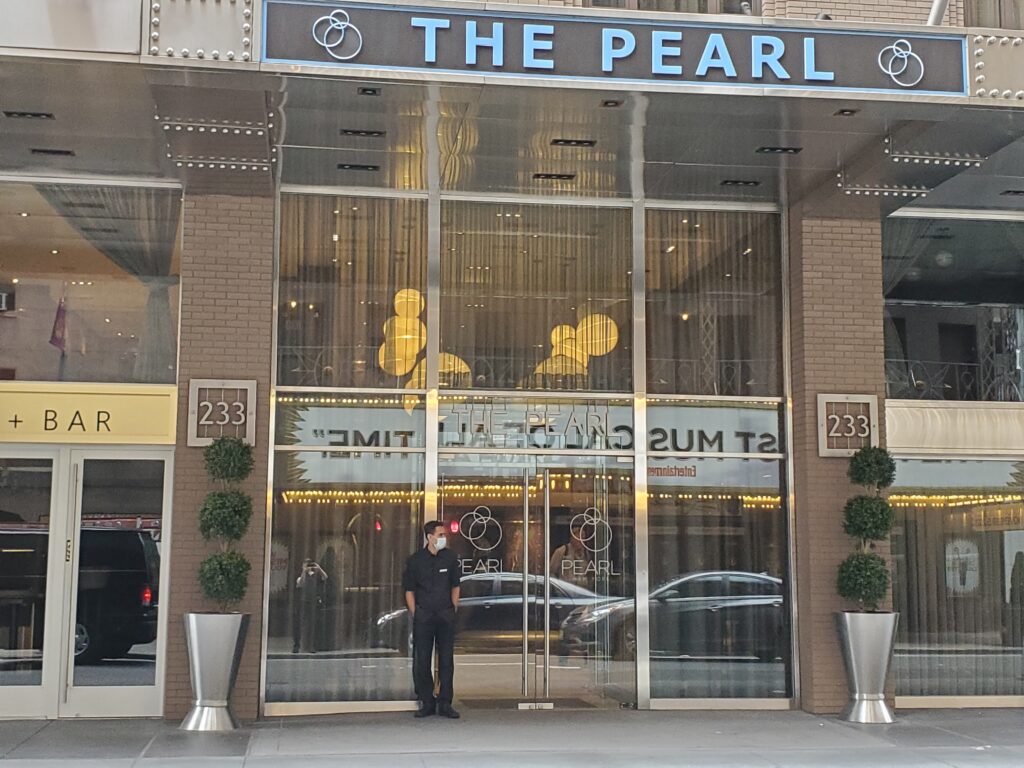 By the '70s, there were a lot more Sam Goody outlets. I worked in the cassette department of the "Rock Center" branch in 1975. My friend Jim Green, who was already employed there, got me the job. The store was on the corner of Sixth Avenue and 51st Street and primarily sold chart hits to tourists. I once waited on Lauren Bacall and recall Sam strolling in on a couple of occasions.
Goodys eventually got swallowed up by the Musicland chain and the name was slapped on stores all over the place. It all eventually went bust.
I ended up working in an office on the same Rockefeller Center block. (Rough Trade's current shop is now nearby, at 30 Rockefeller Plaza.) The Goody space became an all-but-useless FYE store, selling videos, music and electronics. Now it's a bank, one of two Santander branches occupying former record store spaces in New York.
---
The Bronx
Although I never shopped for records in the Bronx, I have spent a lot of time there, and have much respect for the crucial contributions made by the borough's many music retailers.
Cousins
The space where Cousins Records existed, at 382 Fordham Road, now sells kicks of a different sort. Here's a fascinating account of Lou Cicchetti, his store and how it earned a place in rock and roll history.
---
Crazy Eddie
Crazy Eddie, a small chain of electronic and record stores whose manic TV and radio advertisements are clearly remembered by every New Yorker over the age of 40, started in Brooklyn. The Bronx outpost, at 300 East Fordham Road, opened in the late '70s and remained in place until the company — which turned out to be reliant on a huge fraud for its existence — collapsed a decade later. These days, the location is occupied by Gee the Jeweler.
At its height, there were a lot more NYC stores in the chain, including 163 East 86 Street (an address that was recently used as a pool hall) on the Upper East Side and 405 Sixth Avenue on the corner of Eighth Street in the West Village. That one was a Sprint store (I think the Tech HiFi I used to browse in was next door to the left, now a Chipotle) but is now vacant.
---
The Spinning Disc
Corky's Diner, at 2537 Grand Concourse, just north of the Army recruiting station we marched on in 1970 ('71?), was once the location of The Spinning Disc, a store about which I know nothing whatsoever.
---
Brooklyn
Titus Oaks
Titus Oaks Record Exchange was in Brooklyn, back in the days when Church Avenue was the north end of the large area known as Flatbush, where I attended school for three years. The store at 893 (later 895) Flatbush was just steps away from the legendary Erasmus Hall High School, where I did not attend. The neighborhood has changed a lot since then, and the store is long gone. I don't think I ever set foot in the store — a mildly traumatic adolescence in Brooklyn kept me from visiting the borough more than a few times after I moved to Manhattan (and then Queens).
Titus Oaks (the significance of the name remains a mystery, but I'm sure someone knows and will inform me) advertised in Trouser Press and carried the magazine as well. At some point, the Brooklyn store moved south the Avenue U. There were locations on Long Island (Hicksville and somewhere else) as well. I had no idea that the owner, Alan Meltzer, became a wholesale CD distributor and then wound up (ahem) starting Wind-Up Records, who had Creed and Evanescence on its roster. The store was reportedly looted in during the blackout of July 1977. He died in 2011. The space is now a bank.