In honor of Michael Stipe's birthday, here's a vintage article collected in Ira Robbins' Music in a Word, Volume 1, which will be out in paperback later this month.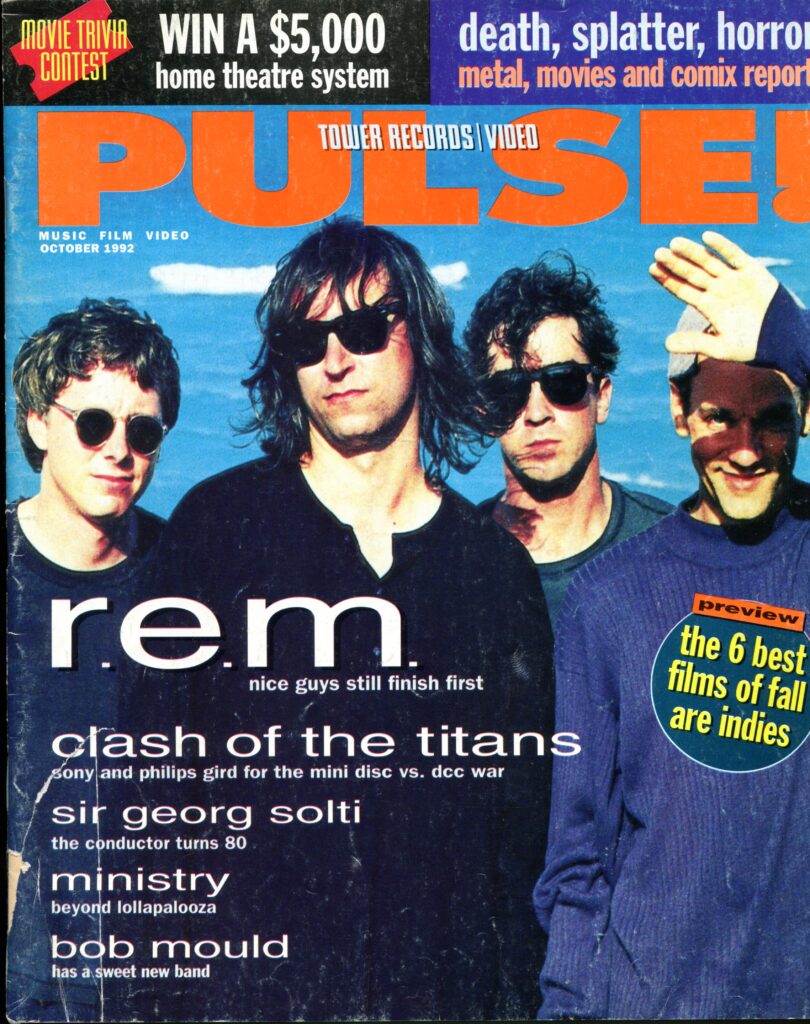 Pulse!, October 1992
By Ira Robbins
A decade since obscurity and a cool guitar sound was all a young group paid to purchase surefire credibility at the hip rock counter, R.E.M. still seems too good to be true. Ten years is usually enough time for even the most superlative band to sink into the miserable cultural irrelevance of redundant million-sellers…or worse. Yet despite its longevity and colossal commercial success, the little ol' pop combo from Athens remains thought­ful, conscientious and genuinely responsible, musically and socially, making self-challenging records of real value.
Last year's quadruple-platinum Out of Time may have been only half a great album, but it was hardly the demo­graphically blueprinted sellout some cynics claimed. The new one, an acoustic-geared / feedback-sharpened beauty titled Automatic for the People, is the band's most adult, accessible, reflective and gently proffered record yet, a rich, handsome disc that both ratifies and defies expectations. Is R.E.M. the Left Banke of the '90s? After all this time and momentum, the vision thing remains as much a function of whim as sales prospects. "We're all talking about the next album being kind of noisy," says guitarist Peter Buck.
It's been ages since anyone over the age of 12 expected perfection from a rock'n'roll band, but the members of R.E.M. have managed to become Genuine Rock Gods without making a public nuisance of themselves. (Except, perhaps, for Buck's bratty decision to wear pajamas at the Grammy Awards in February.)
"I think U2 tend to go for it more than we do," says Buck. "I had the feeling when I bought the first U2 record that they understood where they wanted to go a lot better than we did. They wanted to be the biggest band in the world. For us, fame and being on the world platform is a not really a necessary by-product of what we want to do — making records and playing when we want to play."
"We wanted to be successful," says bassist/keyboardist Mike Mills. "But, for me, we were successful the day in 1981 that I didn't have to have a day job." (He ran an inserting machine at the Athens newspaper.)
Success is a relative thing, and the members of R.E.M. now stand as low-key kings of an alternative rock colony they pioneered but no longer have much stake in. Nirvana and the rolling thunder of Lollapalooza don't appear to have much more impact than the fact that Mills calls Nevermind his favorite album of 1991 ("…except maybe for ours") and that Buck is interested in attending Postpunkstock. Too smart to crack up, apparently incorruptible by the usual means, and determined to please themselves artistically, the band members continue to guide a grand-scale career with — God forgive me such gullibility — what appears to be sincere creative ambitions and human-being concerns other than just money, fame and power.
Are these guys nuts?
"Every time you make a record," says Buck, "You think, why am I doing this? When we get to the point where we don't have anything to say to each other musically, you couldn't pay me to do it. If we start making bad records, I'll quit. But I'm still learning things."
"There are songs on this record that I still don't believe we put out," allows Mills. "As long as we can keep surprising ourselves — I think that's the point — then we're doing all right. It's still fun for me to see what the three other guys do with music that I may initiate. Sometimes it's really annoying, but it's still cool."
Call Kurt Loder! R.E.M. has decided not to tour. For the second album in a row. The exhausting year-long Green excursion ended in November 1989; the current plan is to go out at the beginning of 1994, after the next album is released. "Touring can be great fun," says Mills, "but it's also very demanding. You have to be 100 percent into it to do it — to do it well." Doesn't the band worry that fans will take its staying home as a sign of arrogance? "I am concerned about that. But we don't want to go out and give somebody a half-assed show just because they want to see the band."
The last time R.E.M. performed was on January 31, 1992, at a benefit for a mental health organization in Athens. As Buck is quick to point out, "We played a lot last year, but we played for free: radio broadcasts, television shows [including MTV Unplugged], benefit things. For me, that's ideal: I can play for free every night of the week."
R.E.M.'s ambivalence about its business rings with disconcerting wholesomeness. Out of Time's media-slaying "Radio Song" might not have gotten the airplay it theoretically deserved, but the group can accept its failure to become a hit single as a fair-market price for expressing those sentiments, and for giving a guest shout to Bronx rapper KRS-One. Likewise, if not touring costs the group a few million record sales worldwide, they evidently don't consider it a usurious penalty for peace of mind, or the time to do other things. Staying well outside the nouveau riche suicide class many big bands inhabit, R.E.M. evinces the sensible moderation of the working wealthy: its members know they've earned what they enjoy. "We do what we do," says Buck with the aplomb of someone who really believes that que sera sera stuff. "Eventually there'll be a time when we're not needed in the scheme of things. I'd like to think we'll figure it out before everyone else in the world does."
Nowadays, R.E.M. can take a relaxed front-porch attitude. A million miles from the gimme-it-now urgency of punk rock, its members can talk calmly about touring the year after next, of scheduling rehearsals for another album to begin on June 1, 1993, with a realistic sense of imminence and priority. These aren't pipe dreams relegated to some indefinite future, but realities on the horizon — just a long way off.
What's on the table right now is Automatic for the People, R.E.M.'s eighth album. Not counting compilations. Or reissues, a topic about which the group is currently steamed. I.R.S., R.E.M.'s former label, is re-releasing the band's back catalog (Murmur, Reckoning, Fables of the Reconstruction, Lifes Rich Pageant, Dead Letter Office and Document) in Europe. "They're tacking on three or four extra tracks to each record," Mills explains. "Most of the tracks were never released; they're not supposed to be released. The only reason they're doing it is to gouge people who collect records. One of the tracks is a version of ՙWind Out' that [R.E.M. managers] Jefferson [Holt] and Bertis [Downs] sing on." According to Buck, "I.R.S. doesn't have the master tapes. They're taking the shit off of bootlegs. There's some live stuff they took off a TV show." Sig Sigworth, the senior director of production for I.R.S. who assembled the European repackages, denies the allegation. "We have the master tapes in the vault that were delivered to us by the band."
Automatic for the People was recorded between April and July in Bearsville, N.Y., Miami and Atlanta, and mixed at Heart's Bad Animals studio in Seattle. "I would have loved to have been in Seattle two years ago," rues Buck. "You can tell it's like Athens was. Before you know you've got a scene it's a pretty great scene."
Following Out of Time's arrival in March 1991, R.E.M. set about proving the old adage about work expanding to fill all available time. Even without touring, the foursome didn't exactly sit around Athens eating bonbons. They recorded "Fretless" for the soundtrack of Wim Wenders' Until the End of the World. Stipe attended the Reebok Human Rights Awards ceremony in Boston with Natalie Merchant of 10,000 Maniacs and met Jimmy Carter. (Recently, Stipe and Merchant did a duet vocal on an Automatic outtake that will be donated to the National Abortion Rights League for a benefit album.) Buck played guitar on Robyn Hitchcock's Perspex Island. Buck, Mills, drummer Bill Berry and former R.E.M. adjunct Peter Holsapple spent a week working on Athens Andover, a disappointingly bad album (save for "Nowhere Road," the one song they wrote) by the Troggs.
Buck iterates other ways R.E.M. passed the months. "We finished the promotional tour for Out of Time in May and started rehearsing for this record the first week of June. We did the fourth video, went to the Grammys, some of the guys went to the MTV thing, we went to England for the BPI Awards, went to Paraguay to look at some land for the Nature Conservancy. Then we started doing this record. We don't work in December. We demoed about 30 instrumental things."
Describing the songwriting process, Mills says, "Usually, one person will have done something at home on guitar. It could be just a little idea or most of a song. In the process of everyone learning the song they change it, write their own parts and it becomes a group thing. Sometimes it's literally noise from chaos. We all play without listening to the other and then all of a sudden some of it starts to go together. One of the first to come out of the chaos method was ՙOrange Crush.' That was literally everybody just making noise in the studio and then it just fell into place.
"Our writing used to be all guitar-oriented; it was usually me and Peter, or me and Peter and Bill, sitting down with guitars and writing songs. You can only take that so far." Buck agrees. "On the last three or four records, there's been a few songs that we go, ՙThat's an R.E.M. song.' We never end up using them because we've done that. I could do ՙDriver 8' three times a day. And I know a lot of other people can, too."
The lyrics — those elusive word paintings that have made Michael Stipe the messiah of university sensitivos everywhere — frequently go on last. But not always. "'Nightswimming' is something he wrote before Out of Time," explains Buck. "We were supposed to put music to it. We wrote three or four different things for it [that didn't work], so it didn't make the record."
While sharing some thoughts about the songs on the new album, Buck and Mills — forced, with no evident unease, into the odd position of having to speak for their bandmate, who opted to attend to video business rather than do interviews — gamely try to explain Stipe's lyrics (as much as their meaning can be deduced, a task for which membership in R.E.M. apparently isn't much help).
"Drive" is an atmospheric minor-key teen spirit song that sets the album's instrumental tone with acoustic guitar and moody strings (arranged by ex-Zepster John Paul Jones and played by some of the same Atlanta Symphony members who were on the last album) but refers, in the lyrics and the vocal delay, to David Essex's 1973 glam-rock classic "Rock On." The song, which will be the album's first single, "doesn't sound a whole lot like us, doesn't sound like anything on the radio," says Buck. "It's either going to totally stiff, or it's going to really stand out."
Mournful howls of guitar feedback (feedBuck?) unsettle "Try Not to Breathe," an affecting reflection on death and life. "When I was doing the demo," the guitarist recalls, "I had this little mic right in front of me and I was breathing really loud, and it was making too much noise. I said, 'I'll try not to breathe,' and Michael took that as the title."
If something about the title and Stipe's first four notes of "The Sidewinder Sleeps Tonite" sounds familiar, don't bother pointing it out to R.E.M. The group paid for the rights to tickle those memory banks, approaching the authors of "The Lion Sleeps Tonight," the Tokens' 1961 hit (itself a pop rewrite of the African folk song "Wimoweh"), to cut a deal. Why didn't R.E.M. just follow standard music-industry practice and pilfer whatever isn't legally nailed down? "If we did that," Mills explains, "some lawyer would call up [the songwriters] in a year and tell them they could sue us. We'd probably win, but who needs it? It's much better to just cut it off at the pass.
"Half of the song is about somebody trying to get in touch with someone who can sleep on his floor. The other half — you're on your own."
"Sometimes with Michael," notes Buck, "It helps to realize that there's an overall scheme to the song, but some verses don't refer to the body of the song." Hence the references to blackeyed peas, Nescafé on ice and The Cat in the Hat. But what's Stipe giggling about? "I kept trying to get Michael to say "Seuss, not Zeuss, and he couldn't do it," recalls Mills. "He tried, but he said 'Zeuss' anyway, and that made him laugh." And what is that catchy slurred refrain? "Call me when you try to wake her up." Oh.
The subject of "Everybody Hurts" is "exactly what it sounds like," says Mills. (What it sounds like is Simon & Garfunkel on a soul tip.) "I bought this awful $20 Univox drum machine," says Buck. "But it made sense because the song had a metronomish feel. Mike and I cut it live with this dumb drum machine which is just as wooden as you can get. We wanted to get this flow around that: human and non-human at the same time."
"New Orleans Instrumental No. 1" was done live, with Bill Berry on electric piano, Mills on stand-up bass and Pete on guitar. "It fit the mood of the record. It's not meant to signify anything. It's a mood piece," says Buck, who currently lives in the Big Easy. "It's the kind of thing we usually don't put on the record. This time we did. There's a 'No. 2' that will be a B-side; it sounds like an ad for some deranged piña colada mix."
"Sweetness Follows" addresses family estrangement with such evocative solemnity that, according to Buck, "Michael called his parents and said it wasn't about them when he wrote it." To Mills, "It sounds like he's getting back in touch with a sibling because their parents have died."
In an extremely pretty album's most incandescent thought, Stipe sings, "It's these little things that can pull you under / Live your life filled with joy and wonder" (and then "thunder") in a voice heavy with sadness. "Michael likes to conflict what the lyrics are saying with the music or the way he's singing it sometimes," Buck explains.
"While we were doing the record, Michael met some guy who took photos of Montgomery Clift during The Misfits. I'm not sure what this guy told him," Buck admits, but it resulted in "Monty Got a Raw Deal." Regarding the other rock number on the same subject, he says, "The Clash song is real specific and ours isn't. It's more of a meditation on the movies and reality."
Offered a comparison of "Ignoreland" to the sound of early-'80s Who, Buck doesn't object, but doesn't agree, either. "More Neil Young-y; it's got that tuning he always uses." The track's harmonicat is co-producer Scott Litt, who also played clavinet on it. Mills considers it "a political song against the Reagan era, but it's basically a guitar fest." Ironically (or perversely), the album's most pointed topical message has its least discernible lyrics. "Michael really wanted to fuck his voice up. He's singing through an amp."
The actual title for the woozy "Star Me Kitten" is "Fuck Me Kitten" — but don't tell that to Walmart shoppers. The song was born, as Buck tells it, at practice one day, when "Mike started playing these oddball chords. I said, 'That sounds like it needs tremolo guitar, some lovely little Twin Peaks lead.' Me and Bill and Mike did it in like 10 minutes, put it on cassette and walked out. We said, 'Michael is never going to put words to that.' And that was the first one he got a melody and words to."
Besides Hammond organ, Mills is responsible for the song's ethereal background vocals. "I sang seven or eight dif­ferent notes and put them on faders on the board. You play the board like an instrument, fading notes in and out."
R.E.M. may have come in second with Montgomery Clift, but "Man on the Moon" must be the first song about Andy Kaufman. As Buck plays '50s slide guitar over a warm samba beat, Stipe hangs such characters as Fred Blassie, Charles Darwin and Elvis Presley (a Kaufman specialty) onto a seductive melody. Buck claims there's no secret compartment here. "When Michael sings about Andy Kaufman and Elvis, he's singing about Andy Kaufman and Elvis. It's not about wheat prices in Russia."
Mills' increased role becomes most obvious with "Nightswimming," one of the finest pop songs in R.E.M.'s archive. His stately piano shapes the song, encouraging Stipe's heartfelt vocal to elevate a slice of small-town nostalgia into a song of aching beauty, an eroticized Norman Rockwell tableau with universal meaning. "We used to sneak on this guy's property in Athens and go swimming in this water hole," recalls Buck. "It'd be great: 30 of us all running around naked. It was before AIDS, and whatever happened happened."
Acknowledging the resemblance of "Find the River" to the music of 10,000 Maniacs, Mills agrees that Stipe's "approach for the melody is very similar" to that group's work. "I wanted the record to end with 'Man on the Moon'," notes Buck, but he was overruled. "Now it ends with two slow songs, ending songs. 'Find the River' is kind of — dare I say it? — elegiac. It's a natural end to the record."
R.E.M. is in the driver's seat, a place all idealistic bands dream about in their youth. So has it unraveled any of rock'n'roll's secrets? "No matter how archetypal we look, we're still making it up as we go along," says Buck. "It looks from the outside like there's some master plan, but we just do what makes sense on a given day. People look back over what can be described as a career and always assume that we knew what we were doing. All we knew was that we didn't want anyone else telling us what we should do." ◆